Red River Area 4x4 Trails
Greenie Peak Trail System
Forest Road 597 Connect to 54 Trail System (MODERATE)
This popular trip ranges in elevation from approximately 8,750 feet to over 11,220 feet. Greenie Peak, at an elevation of 11,221 feet, is the highest peak in New Mexico that can be accessed by motorized vehicles. It is not unusual to see lots of wildlife on these trails, particularly in the Midnight Meadows area.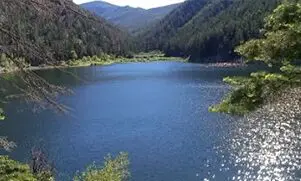 Forest Road 134A (EASY-MODERATE)
This is a pristine 15-acre alpine lake. This lake is one of the few places in New Mexico for catching brook trout. Take the time to hike up behind the parking area to check out the dam. The head of a 4-mile hiking trail to Heart Lake can be accessed on the far side of Cabresto Lake.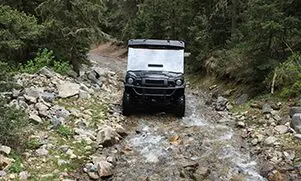 Forest Road 485 (Moderate-DIFFICULT)
The trailhead can be accessed off Pioneer Road and is adjacent to the Arrowhead Lodge. The road, which runs along Pioneer Creek, starts at an elevation of 8,665 feet and climbs to 10,200 feet, where it meets private land. The road was built by miners at the end of the 19th century. Along this 6-mile round trip, you will see remnants of gold and silver mines that operated until 1931. Be sure to ask us for a guide to the numbered markers along the road that explains the mining history of each site.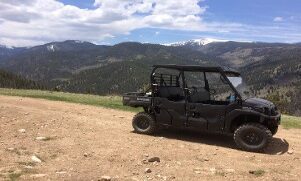 Forest Road 487 (MODERATE)
This steep and narrow series of switchbacks was an early road into town and an engineering feat built in 1915-1916. This road ranges in elevation from 8,750 feet at the trailhead to 9,852 feet at the top. The top of this road offers great views of the Red River Upper Valley, Wheeler Peak, and Gold Hill.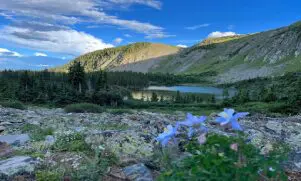 Forest Road 486 (MODERATE-DIFFICULT)
OUR JEEPS ARE NOT ALLOWED ON THIS ROAD. The trail crosses the river and continues 8 miles to Goose Lake. This trail ranges in elevation from approximately 8,750 feet to over 11,500 feet. At the lake, you can fish for trout and also have the chance to see some of the high-elevation Rocky Mountain wildlife, including bighorn sheep and marmots. Hike up the trail on the back side of the lake to reach a saddle with expansive views, including Taos Ski Valley.